How Dronedek is Helping to Save the Planet, One Delivery at a Time
By Cher Murphy Apr. 5th, 2022 | Source: justluxe.com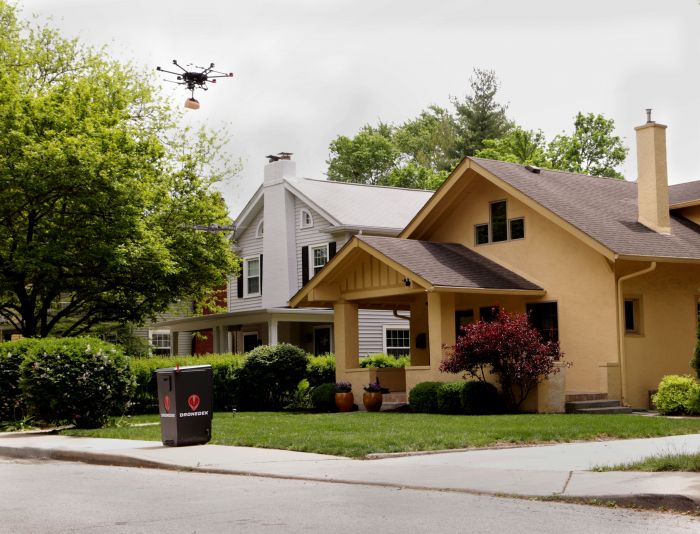 April 22nd is Earth Day, spotlighting ways people can help protect and preserve the planet. Increasingly, global warming and sustainability issues have become hot topics that are getting people talking. One company, DRONEDEK, is helping to save the planet through the way people have packages delivered. Focusing on the last mile of delivery, their efforts can help keep the planet healthier and consumers happier.
"To help protect the planet, we have to make small changes in many places, so they all add up to a radical improvement in the environment," says Dan O'Toole,the founder and chief executive officer of DRONEDEK. "Our contribution is in how packages are delivered. We are helping to save the planet one package delivery at a time."
Americans purchase billions of dollars worth of goods online each year, which means countless packages are making their way across the country. What adds to the carbon footprint that each package being delivered has is that millions are stolen each year.When packages are stolen from porches by "porch pirates," they typically have a replacement that will be sent out. This leads to many more packages needing to be delivered.
Reducing package theft is one way to help save the planet because it will reduce the number of packages being sent overall. DRONEDEK provides a solution to this problem by providing last-mile delivery that ensures packages are delivered safely and securely. Using drone technology, the packages are delivered to a secure receptacle so that only the rightful owner can access them. This helps to save resources with each delivery.
Here are additional ways that the DRONEDEK delivery method is helping to save the planet:
The DRONEDEK autonomous delivery methods help reduce the number of vehicles on the road that would otherwise be used to make deliveries.
Building out networks of DRONEDEKs (and the subsequent reduction of delivery vehicles from the road) will help accelerate global efforts towards carbon-neutrality by (or before) 2050. What we may see is a positive correlation between the increase in the number of installed DRONEDEKs and the decrease in carrier traffic needed as a result.
There are numerous positive ripple effects of DRONEDEK helping to keep delivery vehicles off the road. These include reducing greenhouse gas emissions, harmful chemicals, wear and tear on the roads, fossil fuel consumption, vehicle accidents, etc. There will also be fewer delivery vehicles driving through neighborhoods.
DRONEDEK is embracing an ESG-focus (environmental, social governance) model, by encouraging and fostering the acceleration of autonomous delivery methods, including using drones and robots.Having DRONEDEK allows service providers to integrate autonomous delivery methods alongside conventional delivery methods more easily.
"We are happy to be a part of the solution," added O'Toole. "Not only are we helping to reduce package delivery theft, but our method will also help protect the planet."
DRONEDEK allows people to receive package deliveries and outgoing mailings through a safe and secure receptacle. The receptacle is a patented, smart receptacle that works with a drone to ensure that packages are received and are allowed to be taken only by those who own the case. The receptacle has been designed to protect the items from the weather and would-be thieves. Users can monitor the delivery on an app on their phones.
Founded by Dan O'Toole, DRONEDEK has raised $7.1 million, helping to bring the receptacles to market this year. Dubbed as the "mailbox of the future," the receptacle will help people send and receive packages securely, safely and provides privacy. The company recently announced it has partnered with Nova Labs, formerly Helium Inc. to allow for more significant wireless network expansion. Helium hotspots will be put into DRONEDEKs in areas with limited coverage to help build out the network.
To see videos of DRONEDEK works, visit DRONEDEK: The Next Generation Mailbox, and New DRONEDEK Smart Receptacle. To learn more about DRONEDEK, visit the site: https://www.dronedek.com.