DRONEDEK Makes Smart Mailboxes a Reality
BY NEESA SWEET | Source: InsideUnmannedSystems.com
---
Joe Murphy is excited.
As deputy chief of staff to the mayor of Lawrence, Indiana, he's eager to see the Indianapolis suburb host the launch of an unmanned mail delivery concept in the second quarter of this year, courtesy of locally based DRONEDEK. "This would be really helpful if people could have something like this in their front yard," Murphy noted. Consequently, he's looking forward to a DRONEDEK pilot project involving four local businesses.
Murphy might have something to be excited about. It's no secret that the marketplace is alive with last mile delivery solutions ranging from drones to autonomous vehicles to robots. But to hear DRONEDEK Chairman and CEO Dan O'Toole talk about it, the real issue is where all those delivery systems are going to put what they're delivering.
DRONEDEK's answer: a safe, secure, weatherproof receptacle that not only houses items but notifies customers about their deliveries. DRONEDEK is a smart, fully autonomous, sensor-equipped landing pad and container that can keep food hot, medicine cold, and other deliveries locked and secure. It can work with drones and other autonomous delivery vehicles, and can provide ancillary services such as aid to emergency responders. It includes a mail slot and can be mounted on a porch, roof, window, house or building, or placed into the ground. It's all directed and powered by a cloud-based app controlled by the user, vendor and delivery services.
Initially, O'Toole was not alone in thinking the idea had merit. In fact, he barely beat major players to register the idea. The idea for DRONEDEK first came to him in 2014, but it became a race to the patent office. He'd lost out before, so he rushed to make his claim and later discovered that "I beat Amazon by nine days, the post office by two weeks and others by less than a month.
"Right now, our product roadmap envisions a small residential unit, about 2 feet square and 4 feet tall," O'Toole continued. "We will have different sizes for business." Objects that don't fit are left near the base of a DRONEDEK; an electronic video surveillance field notifies the recipient via the app and sounds an audible alarm if there's tampering.
A 21st-Century Mailbox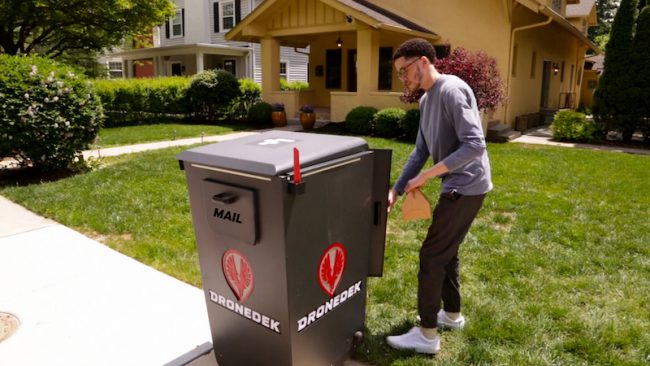 User opening DRONEDEK to receive a delivery. Photo courtesy of DRONEDEK.
"The mailbox hasn't been updated since it was invented in 1858," O'Toole noted. DRONEDEK, on the other hand, debuted at the Las Vegas Consumer Electronics Show (CES) this January. "DRONEDEK is bringing the mailbox into the 21st century and beyond," O'Toole said.
DRONEDEK's service includes a ground deck—the box—and a cloud-based app powered by partner Oracle Cloud. The units are temperature-controlled from refrigeration to heat, can melt snow accumulated on the lid, and open via the app, a code or other means. If someone's box is full, the app can deliver the package to a neighbor. In an emergency, color-coded lights can alert the fire department, an ambulance or even warn neighbors away from a home invasion.
The box utilizes four sensors, DRONEDEK Chief Strategy Officer Neerav Shah explained: two temperature sensors that measure internal and external temperature, a TOF (time-of-flight camera) that registers how full the box is and a capacitance sensor to calculate amounts of ice.
DRONEDEK will rely on most deliveries to be initiated through third-party delivery services—whether package or food—which would operate or mobilize the drones. The system, O'Toole noted, is "platform agnostic," meaning it will work with any of those services. In the future, he envisions packaging standardization that will conform to drone profiles and delivery.
DRONEDEK will also operate with different drones. Recently, DRONEDEK signed a letter of agreement with its first drone partner, Vayu Aerospace Corporation of Ann Arbor, Michigan. "Their product works and they beat everyone else to the patent office," Vayu president TK Eppley said. "So, they're kind of the market leader. We feel they're going to have great penetration in a space that is going to wildly expand over the next five to 10 years."
Tethers to Mobile
Vayu drones sold to be used with DRONEDEK will be equipped with a tether, Eppley noted. According to O'Toole, the service requires an already-equipped tether system or one available as an add-on. "Right now the market is going towards tethers because of liability issues," he explained. "You don't want the rotors down where humans can make contact with them, so drones are hovering 6 or 8 feet off the ground.
"In the future," he added, "a 16-inch pizza might be in two boxes, double-stacked. It's important that the drone be able to pull the item up near its belly, and that the item be as aerodynamic as possible."
The company also is developing a version for commercial vehicles, pick-up trucks and cargo vans. "If you have tradesmen on a jobsite and they run out of an item, they can get on the app, order it from wherever they are and go on working. When it arrives, they get a notification on the app."
As to what the drone can carry, Shah noted that, given the FAA limit of 55 pounds total for drone and cargo, it's likely that deliveries initially would average 5 to 8 pounds over about 30 minutes.
Equity Crowdsourced
O'Toole noted that DRONEDEK was funded initially out of his own pocket and then, over the last year and a half, with $7 million raised through equity crowdfunding. He plans five revenue streams: subscriptions of about $15/month for a residence, data monetization, transaction fees from vendors, platform access fees, and ancillary opportunities such as advertising or traffic counting.
Right now, DRONEDEK is manufacturing in India, at India's government owned, Bengaluru-based Bharat Electronics. Currently, O'Toole is doing his own distribution; he anticipates using additional manufacturers in the future and manufacturing 4,000 units over the next two years.
"We see a lot of your commerce happening from your DRONEDEK app," he predicted. "We see DRONEDEK as being a conduit to your life."