Bharat Electronics Limited Gets Big Orders from US Based Dronedek
News – Updates by 5paisa Research Team
Last Updated: Nov 28, 2021, 06:31 PM IST
Source: 5pasia.com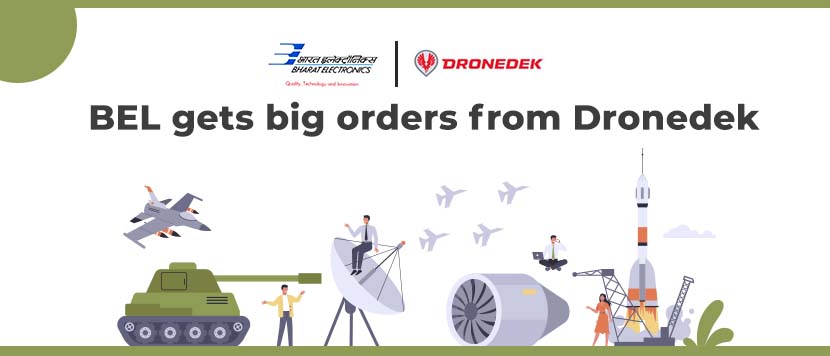 Bharat Electronics has secured a highly prestigious order from Dronedek of the US. Dronedek is the brain behind the smart mailbox strategy.

This is a feature rich mailbox that is also secure and can accept delivery from robotic delivery as well as delivery via unmanned aerial vehicles or UAVs. These UAVs are also popularly called aerial drones.

BEL has entered into an agreement with Dronedek to design, develop and manufacture Dronedek smart mailbox units for distribution across the world. India is yet to crystallize its drone policy.

However, this concept of drone delivery has picked up across the world wherein many of the deliveries happen simultaneously without impacting the traffic in the normal channels.

Dronedek is one of the first companies in the world to have patented the smart mailbox design for secure and focused drone delivery. Its smart mailbox is equipped to handle drone delivery by robots as well as by UAVs.

While the total size of the order for BEL is now known, it has been disclosed by Dronedek that it would be placing such orders to the tune of $50 million during the quarter.

For BEL, which has been into defence electronics support systems and design, this is a new and emerging vertical to foray into.

Last mile logistics has become a big challenge globally and the pandemic underscored the importance of efficient and contactless delivery on a large scale.

That is where drones come in handy. It is expected that drone delivery (both by robots and UAVs) would change the last mile logistics landscape globally.

The Dronedek mailbox is considered to be a multi-functional receiving and storage point. It can accept packages via manned vehicles, unmanned aerial vehicles, robotic drones as well as through routine delivery.

In short the Dronedek mailbox is an omni delivery technology that can support multiple touchpoints with the same mailbox offering. Globally, drone delivery is expected to become a routine need like power and water.

For BEL, this is an affirmation of the quality of its technology, its skillsets, its people and its technical finesse. The chairperson of Dronedek summed it up in that he wanted Dronedek to work with the reliability of a Boeing 747 carrying 300 people.

He expressed confidence that the alliance with BEL would be able to delivery that kind of assurance, safety and quality that Dronedek was looking at.

The BEL stock has been under pressure of late due to the overall weakness in the market. However, this order is surely an affirmation of its capability and its business model.